Jaigarh Fort - Never conquered in battle, this was considered the strongest of the three forts in the area. It is best known as the site of the world's largest cannon, the Jaivana, which was test-fired only once — according to legend, despite using only the half the design amount of gunpowder, the cannonball flew 35 km! A better reason to visit the fort, though, are the scenic gardens at the other end and the spectacular views over the Amber Fort and the hills around. The remains of the foundry where the Jaivana (and many more) were cast are also in the fort grounds. Rs.50 plus Rs.40 for camera.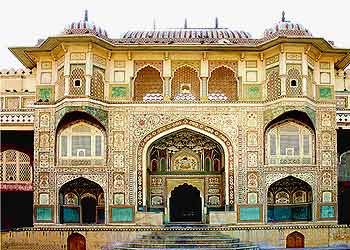 Nahargarh Fort - The smallest of the three forts, notable primarily for excellent views over Man Sagar lake and the vast sprawl of Jaipur. The fort also houses the (relatively) compact Madhavendra Bhawan palace, although its former splendour is fading fast under a new layer of graffiti and pigeon droppings. Portions of the movie Rang De Basanti were shot at this fort. To go the area where the "Pathshala" song was shot, take a left turn as soon as you enter the fort. Rs.10 entry, Rs.35 for Madhavendra Bhawan.


The City Palace - The City Palace is an imposing blend of traditional Rajput and Mughal architecture. It is a vast palace complex occupying nearly one-seventh of the Pink City. It was originally built by Maharaja Jai Singh II. The complex is divided into a series of courtyards, sprawling gardens and buildings. It is home to several palatial structures like the Chandra Mahal (home to present Maharajah of Jaipur), Mubarak Mahal (housing a textile museum), Diwan-e-Khas (or Hall of Private audience housing the two largest silver vessels in the world, which are duly mentioned in the Guinness book), the Diwan-e-Aam ( or Hall of Public Audience) and the gateway Ridhi Sidhi Pol (with four small doorways decorated with motifs depicting the four seasons). Another integral part of the palace complex is the Hawa Mahal, standing away from the main complex.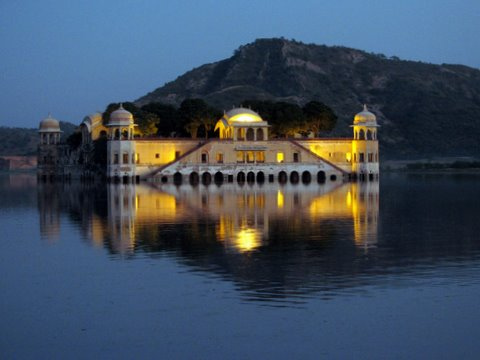 Jal Mahal Palace - Jal Mahal (or the Water Palace) is on the way to Sisodia Rani Garden. A Rajput style architectured palace sits in the center of the Maan-sarovar lake. The lake is often dry in the summer but winter monsoons frequently turn it into a beautiful lake filled with water hyacinths.