Jaipur, also known as 'the Pink City,' is the capital of Rajasthan in India.
Jaipur is the largest city in Rajasthan and was built in the eighteenth century by Sawai Jai Singh as India's first planned city. Although Jaipur serves mainly as a stepping stone for travelers heading to the desert cities of Jodhpur and Jaisalmer, it is not without its own attractions, such as several massive Rajput forts. So, despite the chaos and dust, it is definitely worth pausing here for several days. Now Jaipur is growing fast and various development projects are being done by the government & private enterprises.
Jaipur is often called the Pink City in reference to its distinctly colored buildings, which were originally painted this color to imitate the red sandstone architecture of Mughal cities. The present earthy red color originates from repainting of the buildings undertaken for a visit by the Prince of Wales in 1876.
Amber Fort - This massive fort & palace complex built in Hindu-Muslim style dates back to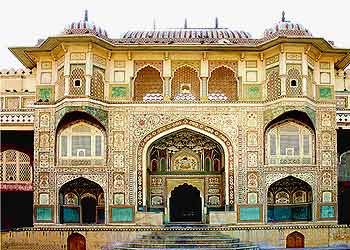 Maharaja Mann Singh and was the royal palace of from 1600 to 1727. The name has nothing to do with the rather pretty pastel yellow colour of the palace, it was named after the town of Amber, in turn named after the goddess Amba. The main sights within the fort include the Sheesh Mahal, adorned with thousands on thousands of mirror tiles on the walls and ceiling. The fort/palace grounds are sprawling and have no signage whatsoever in any language, so it's worth getting an audio guide or a real guide. It's a bit of a hike up from the town, and the touristy thing to do is to hitch an elephant ride to the top. Rs. 10/50 Indians/foreigners, plus optional Rs.25/100 for still/video camera, Rs.100 for audio guide.